Pioneer in Robotic Prostatectomy
One of the world's foremost leaders in Robotic Prostate Surgery
Transparent and humble, Dr. Tewari is an innovator in the fields of robot-assisted prostate cancer surgery and prostate cancer treatment. A pioneer of Da Vinci® robotic surgery for prostate cancer, Dr. Tewari has performed over 9,000 robotic prostatectomies, making him one of the most skilled and experienced robotic surgeons in the world.
Dr. Tewari served as President of the Society for Urologic Robotic Surgeons (SURS) from 2020 to 2022. In 2023, Dr. Tewari was appointed Surgeon-in-Chief of the new Tisch Cancer Hospital, a state-of-the-art cancer facility at Mount Sinai Hospital. He is the Professor and System Chair of the Milton and Carroll Petrie Department of Urology at the Icahn School of Medicine at Mount Sinai, an integral component of the Mount Sinai Health System, which includes seven New York Hospitals.
Dr. Tewari has been a pioneer in robotic surgery and has been involved in the development of robotic prostatectomy from its inception. Dr. Tewari has made a major impact on the anatomical foundations of the prostate as they apply to robotic platforms and has one of the busiest clinical practices. Dr. Tewari has also made seminal contributions to prostate cancer research and has several research grants. Dr. Tewari is one of only a few robotic surgeons to be awarded research grants from the National Institutes of Health and the United States Department of Defense.

Surgeon-Scientist, Physician, and Innovator
Dr. Tewari developed the total reconstruction technique, where the support structures related to urinary function are restored following prostate removal for faster continence recovery.
Dr. Tewari was the first to identify the nerves responsible for erectile function as a neural hammock. In addition, he was the first to publish a catheter-less robotic prostatectomy technique in order to minimize pain and discomfort after surgery.
He also created a system to define various grades of nerve-sparing that utilize information from MRIs and allow for incremental nerve-sparing—even in cases that would not have qualified for nerve-sparing without this graded approach.
This increased understanding of prostate anatomy aids in nerve-sparing prostate surgery techniques. Using a multiparametric magnetic resonance imaging (mpMRI)-based nomogram allows Dr. Tewari to use the best nerve-sparing technique based on a particular patient's biology.
He has identified traction-free and athermal nerve-sparing techniques and has also developed a novel Detrusor wrap technique for early urinary continence. Working with genitourinary pathologists and scientists from the University of Hamburg, he helped advance the role of MRI-guided NeuroSAFE® and sphincter safe approaches in expanding opportunities for nerve-sparing.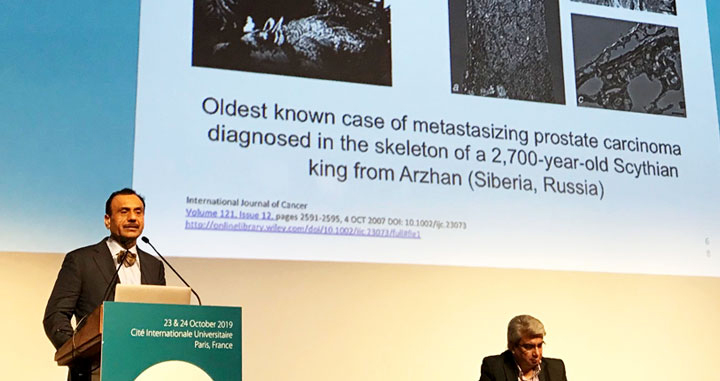 Highly respected by peers
A well-respected figure in the field of urology
Dr. Tewari's case series is one of the largest in the world and his outcomes have set the standard for prostate cancer care.
Dr. Tewari's clinical expertise in prostate cancer includes targeted biopsies, cystoscopies, robotic prostatectomies, as well as the management of active surveillance prostate cancer patients with one of the largest active surveillance cohorts.
He has also initiated clinical protocols investigating the utility of focal therapy platforms for the treatment of prostate cancer. Dr. Tewari has been continuously recognized as a Castel Connolly and New York Magazine Top Doctor since 2006.
Dr. Tewari is the President-Elect and Committee Chair for the Society of Urologic Robotic Surgeons (SURS).
Dr. Sudhanshu Chitale

observed Dr. Ash Tewari and the Department of Urology in the OR

Dr. Ilan Lebovitch

speaks about surgery with Dr. Tewari

Dr. Ankur Mittal

observed Dr. Ash Tewari and the Department of Urology in the OR
Individual attention to each case
Planning for surgery and reviewing prostate neuroanatomy
Before surgery, Dr. Tewari makes a detailed plan for each patient. With his team, he reviews the patient's anatomy, the location of the nerves, and cancer. This allows him to individualize the operation for greater precision.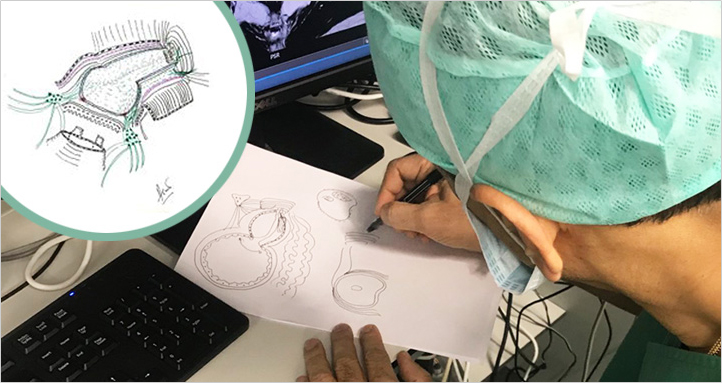 An original handcrafted image of bilateral nerve-sparing by Dr. Tewari
Recognized and honored worldwide
Recognition
In 2012, Dr. Tewari was awarded the American Urological Association's Gold Cystoscope Award. This honor is given annually to a urologist who has contributed significantly to the field within 10 years of completing residency. Dr. Tewari holds several leadership positions domestically and internationally.
Dr. Tewari is the recipient of three major National Institutes of Health research awards, including an R01 grant for which he serves as the Principal Investigator, researching the utility of multiphoton microscopy during prostate cancer treatment.
Honors & Awards
Crain's Notable in Healthcare: 2021
New York Magazine: Top Doctors: 2006, 2007, 2008, 2009, 2010, 2011, 2012, 2013, 2014, 2015, 2016, 2017, 2018, 2019, 2020
Most Compassionate Doctor 5-Year Honoree 2016-2020, Awarded by Vitals: 2020
Castle Connolly America's Top Doctors for Cancer (digital guide): 2016, 2017, 2018, 2019, 2020
Top Doctors New York Metro Area (digital guide): 2016, 2017, 2018, 2019, 2020
Castle Connolly America's Top Doctors (digital guide): 2016, 2017, 2018, 2019, 2020
Albert Nelson Marquis Lifetime Achievement Award by Marquis Who's Who: 2019
America's Best Doctors and New York's Best Doctors: 2007, 2008, 2009, 2010, 2011, 2012, 2013
New York's Best Doctors in Cancer: 2010, 2011, 2012, 2013
Gold Cystoscope Award, AUA: 2012
Most Compassionate Doctor, Awarded by Vitals: 2012
Yahya Cohen Memorial Lecture and Medal, College of Surgeons of Singapore: 2011
American Society of Clinical Oncology Merit Award, ASCO GU, Orlando, Florida: 2011
Syme Medal, Royal College of Surgeons of Edinburgh: 2009
Cutlers' Surgical Prize, Royal College of Surgeons of England: 2009