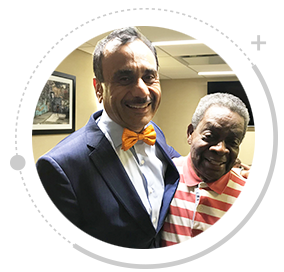 International Footprint of Successful Outcomes
Dr. Ash Tewari is one of the world's leading prostate cancer researchers and surgeons. Patients from around the world travel to New York for his expertise in prostate cancer treatment—specifically in robotic prostatectomy.
Dr. Tewari has personally performed more than 9,000 robotic prostate surgeries. His clinical care case series is one of the largest in the world, and his surgery outcomes are considered the gold standard for robotic prostatectomy.
To request a prostate cancer care or MRI fusion biopsy appointment, call our international patient coordinator at 212-241-9955 or email Dr. Tewari's team.
Patients travel from around the world to Dr. Tewari's clinic for robotic treatment of prostate cancer
Multilingual Team and Concierge Services
Our attentive, multilingual team members speak Russian, Spanish, Hindi, Marathi, and many other languages. It is crucial to have trusted, attentive people by your side when you travel abroad for medical care—we are her to guide and take care of you.
Dr. Tewari's care team provides an international patient concierge service to support you in getting prostate cancer care. Our concierge services include:
On-site help
Remote medical record review
Guidance with paperwork required for a travel visa
Travel coordination help
Hotel and long-stay apartment reservations for patients and families
Coordinating medical appointments
Help with the hospital admissions process and follow-up doctor visits
Interpreter services for medical communication
Dietary, cultural, and religious arrangements
Transfer of medical records to the patient's referring doctor, upon request
How to Make an Appointment
International patients who need prostate cancer care or MRI fusion biopsy should call our dedicated international patient coordinator at 212-241-9955 or email Dr. Tewari's team.
Then, complete our International Patient Registration Form. An international patient coordinator will contact you to help with appointment scheduling and logistics. We will answer your questions or address your requests so you can focus on your health.
Explore Our Video Library
Complete the New Patient Form