Da Vinci® Robotic Surgery

Focal Therapy

Active Surveillance

Immunotherapy

Robotic Simple Prostatectomy
Da Vinci® Robotic Surgery
The good news is that we now have more effective treatment options for prostate cancer than ever before. During your initial prostate cancer evaluation visit, you will be examined by members of our clinical team who will also review your medical records. Dr. Tewari and his world-renowned team use the latest techniques to treat the disease.
A pioneer of da Vinci® robotic surgery for prostate cancer, Dr. Tewari has performed more than 7,000 robotic prostatectomies (surgery to remove the entire prostate), making him one of the most skilled and experienced robotic surgeons in the world. While at Henry Ford, Dr. Tewari was part of the team that performed the first robotic radical prostatectomy in the United States.
We use a state-of-the-art robotics surgical system to remove the prostate through a few small incisions instead of one large incision.
The da Vinci surgical system is a sophisticated robotic platform designed to expand the surgeon's capabilities and offer a state-of-the-art minimally invasive option for prostate surgery. With da Vinci, small incisions are used to insert miniaturized instruments and a high-definition 3-D camera.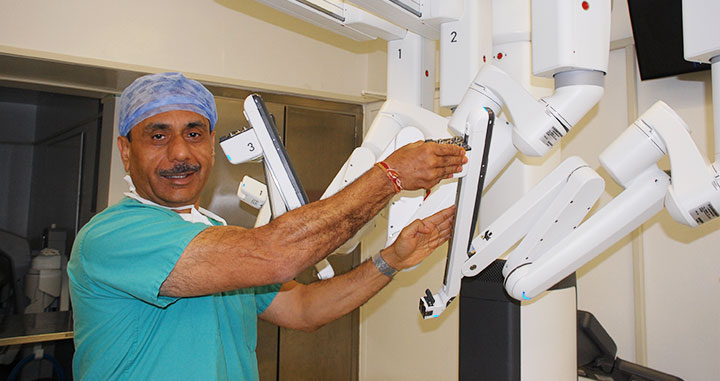 While seated comfortably at the da Vinci console, Dr. Tewari views a magnified, high-resolution 3-D image of the surgical site inside your body.
At the same time, advanced robotic and computer technologies scale, filter, and seamlessly translate Dr. Tewari's hand movements into precise micro-movements by the da Vinci instruments. Although it is often called a "robot," the da Vinci surgical system cannot move or operate on its own; Dr. Tewari is 100 percent in control.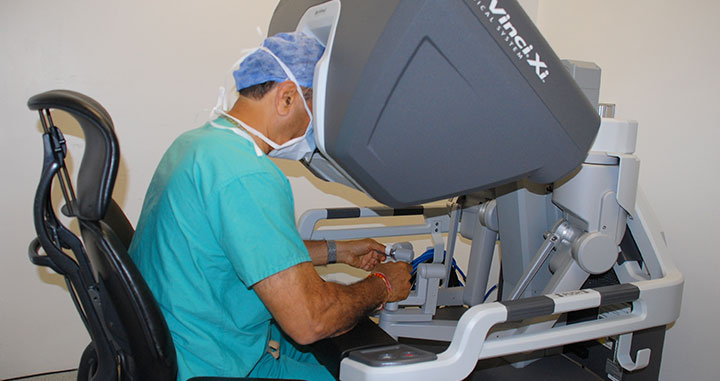 ART™ Technique
The Robotic Prostate Surgery approach used by Dr. Tewari is known as ART™ (Advanced Robotic Technique) prostatectomy. It is a highly successful approach to curing prostate cancer while minimizing side effects in many patients.
Dr. Tewari and his team have developed and refined ART™ over the past decade based on the thousands of surgeries they have performed, their research related to prostate anatomy, and other leading-edge research.
The crux of the ART™ technique is the delicate removal of the prostate from the top of the nerve hammock with maximal clearance for preserving sexual and urinary function. The nerves are not disturbed, and nerve oxygenation is monitored during this phase of the technique, so these preserved nerves are intact and healthy.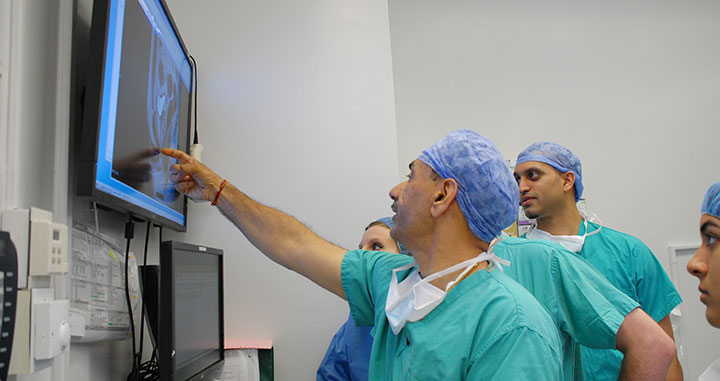 ART™ is highly individualized, reflecting a patient's unique anatomy, the location of the cancer, and the structure of the nerves.
Dr. Tewari routinely makes anatomical drawings of the prostates on which he operates in order to map a cancer's spatial relationship to the fascia, muscles, and nerves that surround the prostate.
Patients and their families have been able to benefit from faster convalescence, shorter hospital stays, smaller incisions with less scarring, significantly less blood loss during surgery, and less pain following surgery. Most of our patients are discharged and return home within 24 hours of their robotic surgery.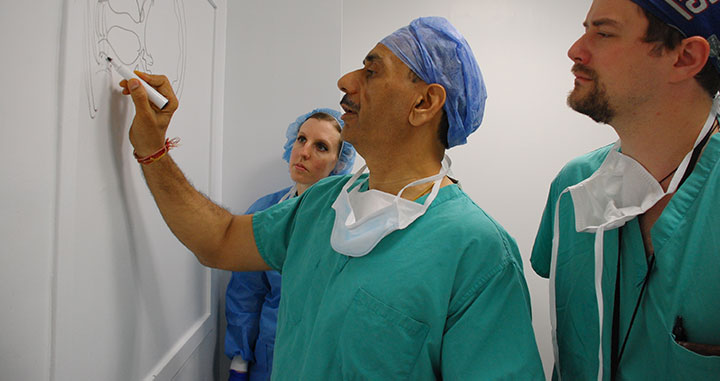 The Hood Technique
Recently, ART™ has incorporated a novel reconstructive approach to minimize and prevent urinary leakage in what we refer to as the Hood technique, where the support structures of the urinary mechanism are restored following prostate removal, for faster continence recovery. More than 500 patients have undergone this technique with excellent outcomes.
The procedure takes 30-40 minutes, with an additional 30 minutes for real-time pathology.
When removing the prostate, we want to leave as much of the prostate's surrounding tissue intact as possible, as this will minimize the disruption of urinary mechanisms.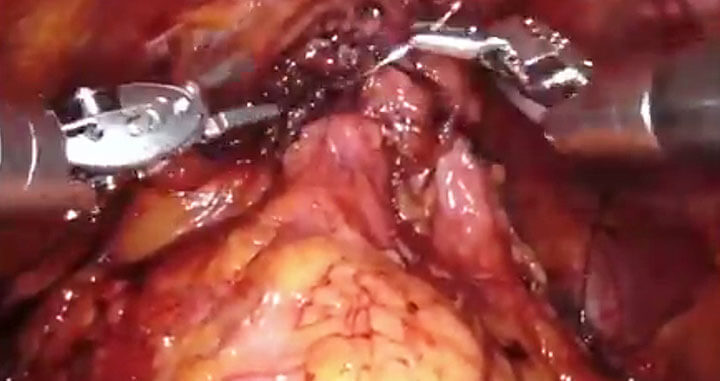 An example of combined technique to address few anatomical issues. Hood Technique- acknowledging and inspired by Dr. Robert Myer and Dr. Bocciardi. Many have contributed to improving continence- goal is still elusive in some.
NeuroSAFE™ Technique
The ART™ technique also maximizes urinary control recovery. Basically, this technique has very high probability of not leaking urine. Furthermore, promoting its success, the ART™ technique incorporates pre-operative MRI based- planning for cancer removal and the intraoperative NeuroSAFE™ technique in which the entire nerve margin is evaluated by the pathologist in real time so that more nerves can be saved, while giving us the ability to ensure any additional cancer is seen before finishing the operation. The NeuroSAFE™ technique was developed with guidance by, and in collaboration with, the University of Hamburg.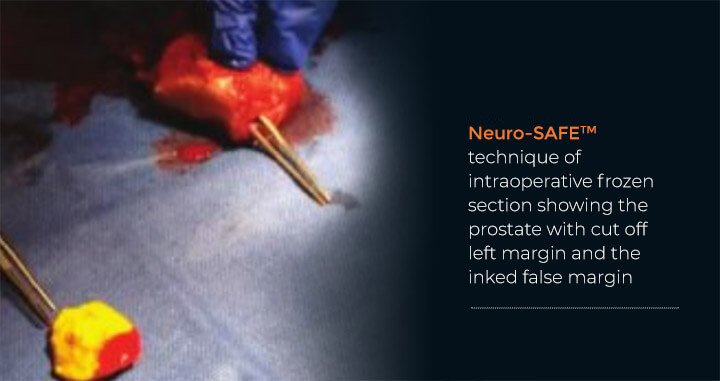 Using a multiparametric magnetic resonance imaging (mpMRI)-based prediction model allows Dr. Tewari to use the right nerve-sparing technique based on a particular patient's biology.
Focal Therapy
Focal therapy is an emerging treatment option that involves the removal of the prostate cancer with preservation of the surrounding healthy tissue.
Focal therapy can avoid damage to the normal prostate while addressing the diseased and cancerous tissue. This therapy may have fewer side effects because not all of the prostate is removed. This approach may result in reduced morbidity when compared with whole-gland therapies.
In current practice, there is some debate about optimal patient selection and preoperative tumor localization strategies in focal therapies. Focal therapy modalities include cryotherapy, high-intensity focused ultrasound, laser ablation, photodynamic therapy, irreversible electroporation, radiofrequency ablation and focal brachytherapy.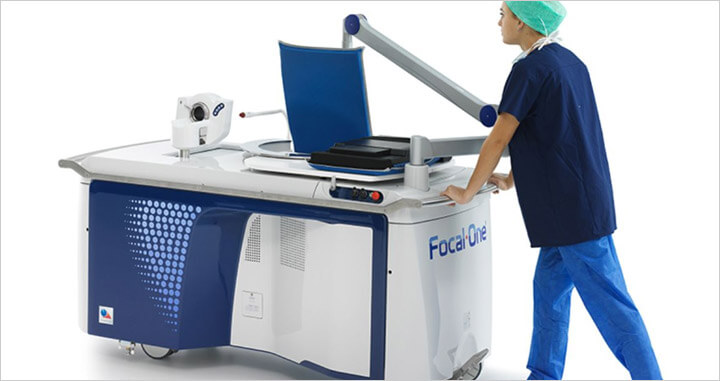 High Intensity Focused Ultrasound (HIFU)
High-Intensity Focused Ultrasound or HIFU is a non-invasive (non-surgical) heating procedure for treating localized prostate cancer. HIFU eliminates prostate cancer by directing ultrasound energy waves (rather than radiation) to destroy diseased prostate tissue. Sound waves are transmitted through the rectum and focus precisely on the cancerous portions of the gland. This targeted and minimally invasive approach to treating prostate cancer leaves the healthy surrounding tissue unharmed, minimizing any side effects for greater quality of life.
Benefits
Personalized, focused treatment
Same-day, non-invasive procedure
Radiation-free
Minimal side effects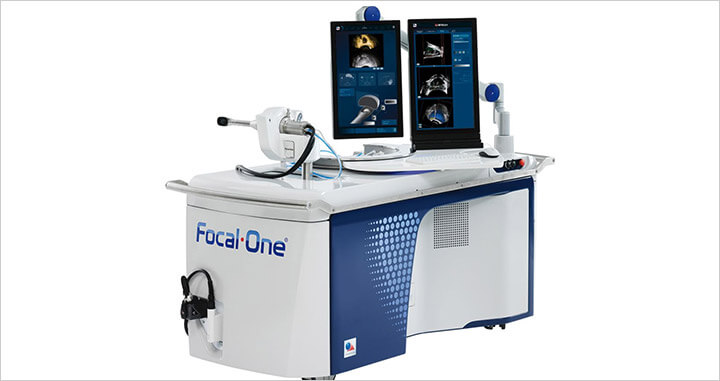 Active Surveillance
Some men diagnosed with prostate cancer are found to have what is deemed to be low risk disease, defined as PSA 10ng/ml or less, a biopsy Gleason score of 6 or less, and clinical stage T2a or less.
For these low risk, low volume Gleason 6 patients, Active Surveillance (AS) is becoming an increasingly popular alternative to definitive treatment modalities such as radiation and surgery. This approach seeks to avoid the morbidity associated with overtreatment of indolent prostate cancer, and delay treatment for disease until it becomes clinically significant.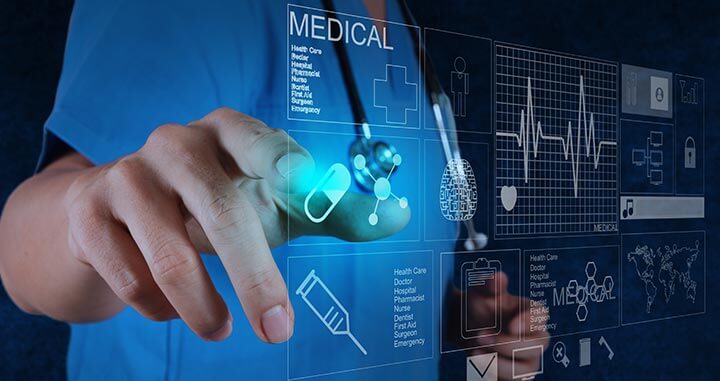 Active surveillance means that instead of treatment such as surgery or radiation, patients will be monitored on a regular basis for signs of more clinically important disease. Dr. Tewari has one of the largest active surveillance ("watchful waiting") programs so that men at lower risk for aggressive cancer can be monitored until intervention is warranted.
Under the Active Surveillance program, full individualized assessment and health optimization for patients are provided to assist in risk reduction.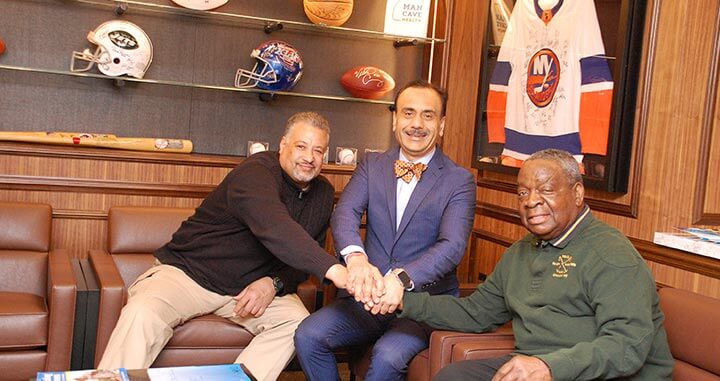 Dr. Tewari and Nihal Mohamed, PhD, Director of Behavioral and Social Research, Department of Urology, Mount Sinai, are currently leading two studies funded by the Department of Defense to inform patients and their loved ones about active surveillance and some of the challenges that men and their loved ones face related to long-term health care such as the need for information about follow-up screening tests and learning strategies to manage stress and worry.
Harnessing the Immune System to Treat and Cure Prostate Cancer
Immunotherapy is a viable treatment option for some patients. We believe that continued research in the field of immuno-oncology may hold the key for future discoveries for many types of cancer, and for this reason we have advocated for the importance of immunotherapy for prostate cancer.
Our Prostate Cancer Immunotherapy Program pursues a variety of projects designed to create a personalized approach to the diagnosis and treatment of prostate cancer. One of our primary goals is to develop effective immunotherapy agents that are unique to a patient's specific tumor.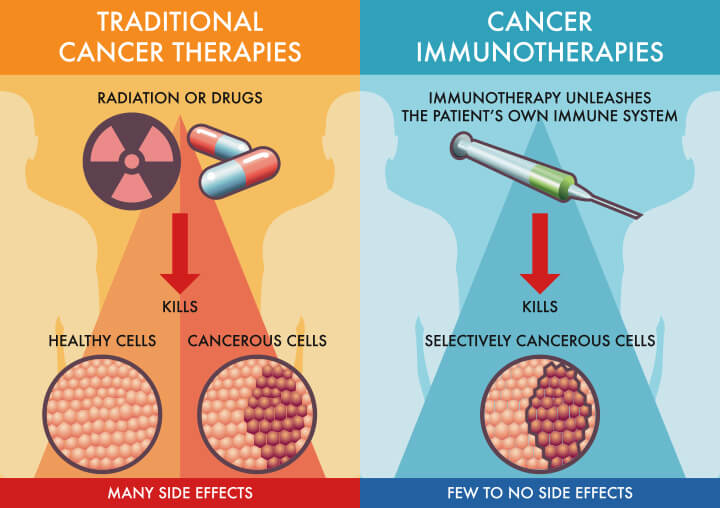 Current Immunotherapy Trials
Dr. Tewari's team is currently conducting three active immunotherapy studies: Dr. Tewari's team hopes this work will enable them to identify eligible patients for immunotherapy in larger patient cohorts or within high-risk ethnic or racial populations, increasing the efficacy and personalization of treatment and improving quality of life.
Neoadjuvant combination immunotherapy of CDX-301(FLT3L) and PolyIC:LC for the Treatment of Intermediate- and High-risk Non-metastatic Localized Prostate Cancer
Open-Label Trial of In-Situ Autologous Vaccination with Intratumoral and Systemic Hiltonol® (Poly-ICLC) administered to Patients on Active Surveillance for Newly Diagnosed Prostate Cancer
Study of In Situ Augologous Vaccination Against Prostate Cancer with Intratumoral and Systemic Hiltonol® (Poly-ICLC) Prior to Radical Prostatectomy
Robotic Simple Prostatectomy for Benign Prostatic Hyperplasia (BPH)
Dr. Tewari performs approximately 400 robot-assisted radical prostatectomies every year.
Benign Prostatic Hyperplasia (BPH) is an enlarged prostate (usually 100 grams or larger), which causes the flow of urine to be blocked.
One of the best options to treat BPH is to perform a Robot-assisted Simple Prostatectomy, which reduces the size of the patient's prostate. The procedure takes approximately 25-30 minutes and usually involves no or minimal bleeding. A robotic simple prostatectomy typically involves an overnight stay in the hospital.